Young Archaeologists School Visits
Turn your class into History Detective!  Our sessions, workshops and school visits, feature hands-on historical enquiry through genuine & replica artefacts.  Young Archaeologists brings the museum to you.
The Young Archaelogists school visit is very adaptable; complements a range of history topics and can be booked very economically by the hour or as a full day for up to six classes to engage with the resources in sessions led by Greg or Lisa.
For History Detectives sessions, workshops and school visits, featuring hands on historical enquiry through genuine & replica artefacts, Young Archaeologists brings the museum to you.
How do we know?
A key question for young children in historical enquiry – how do we know about…?  In the introduction to the session, we discuss sources of information and how archaeology is carried out.  Our portable display of genuine ancient artefacts, featuring Roman brooches and coins; a Medieval key, spindle whorls and other objects is shown.  Historical evidence, as discussed and explained in this short introduction, forms the bedrock for everything we do as Specialists.
The Box of Bones and our Ancient Artefacts display, authenticated by British Museum experts.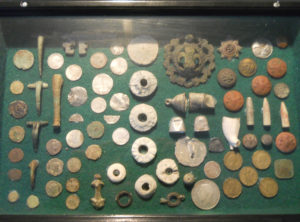 The structure of the session is explained and children carousel around the following activities in groups:
Order, Order!
Collections of replica and original artefacts from different eras are displayed – eg. toys; vessels; jewellery; appliances.  Can the children place them in the correct order by age?
Obscure replica and original antique artefacts are displayed for children to handle and discuss with answers to be shared in the plenary.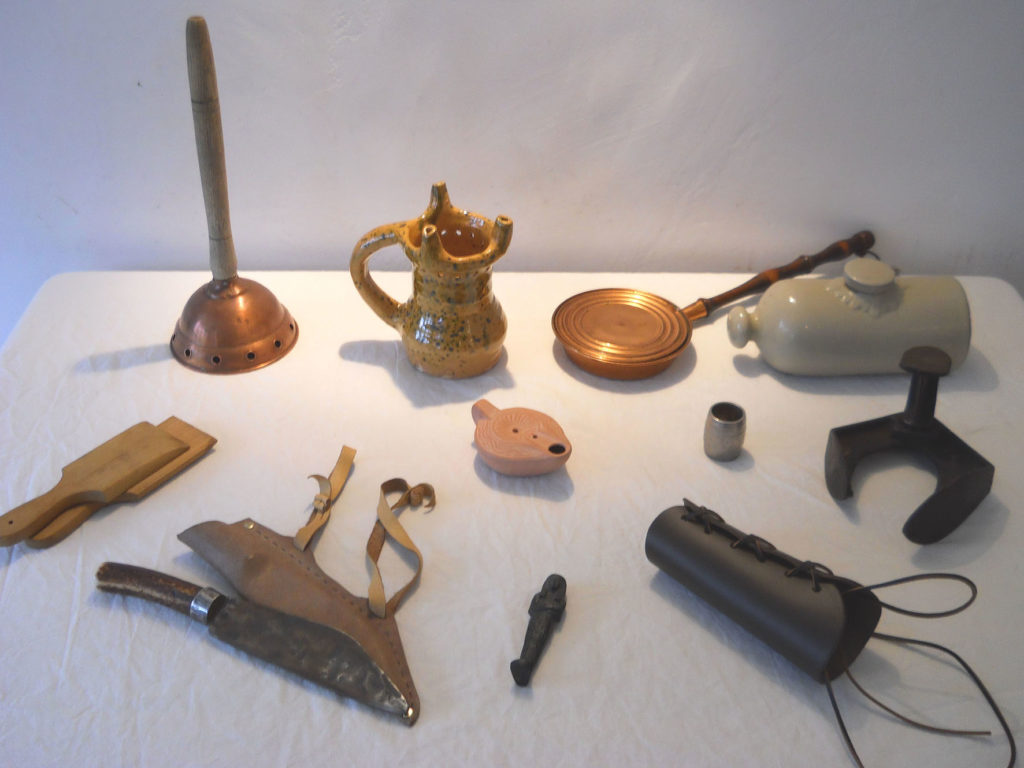 High quality, reproduction artefacts which must be grouped into rich and poor.  This requires study of the materials used and thought given to the likely age of the objects.
Plastic bones arranged with evidence of jewellery need to be recorded precisely in sketch form.  The children must try to work out the person's cultural background and date the skeleton by identifying the jewellery elsewhere in the session.
An international coin collection with coins dating back hundreds of years can be handled.  Children are challenged to identify the countries of origin of certain coins, draw pictures or describe others and use their enquiry skills to date others.
Interactive Clothing Timeline
Interactive Clothing Timeline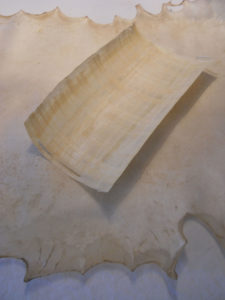 The session usually ends with dressing up volunteers to join a life-size timeline of people from bygone eras, giving a visual and kinaesthetic context for all of the topics covered in schools.
Finally, three different types of writing surfaces from different eras are shown and the children are asked to identify when people wrote on them.
Resources and costumes for this day (as with all of the Specialists' work) are researched to a high level and are mainly of museum grade.  Many objects for this session are real antiques.  The workshop features Greek, Roman Egyptian, Anglo-Saxon, Viking, Tudor, Stuart, Georgian, Victorian and Modern resources and can be used to complement any history topic.
The costs quoted below cover the service which can be delivered by one or two Specialists, dependent on your area and other factors (please see our Terms and Conditions).  Full days can be booked up to one hour's drive from our base.  Reduced full days, half days and bookings where both Specialists are required can take place in schools up to forty minutes drive from our base.
Full Day – (One Specialist, 9am-3pm)
The full day rate is £275.00 from Autumn 2019 plus mileage (55p per mile round trip from CV13 0DZ)
Reduced Full Day – (One Specialist, 10am-3pm)
The reduced full day rate is £225.00 from Autumn 2019 plus mileage (55p per mile round trip from CV13 0DZ)
Full Day – Double Rate (Two Specialists)
The full day rate for two Specialists is £325.00 from Autumn 2019 plus mileage (£1.10 per mile round trip from CV13 0DZ)
Half day
Half days can incorporate some of the above sessions. The cost for ½ day is £180.00 from Autumn 2019 (55p per mile round trip from CV13 0DZ)
These rates are complete and there are no hidden costs.  The day is fully risk assessed and this can be emailed upon request.  Confirmation of booking is taken as a contract between the school and The Specialists and acceptance of our T & C's.
Greg and Lisa McCarthy have many years of experience working with children. Greg is a teacher and Lisa a former Occupational Therapist in learning disabilities. Both have full DBS and public liability insurance.
Resources are meticulously researched and authentic to the period.  We will bring real animal hide and animal bone objects.  We understand if anyone is sensitive to this (Lisa is a vegetarian in real life!) but please be prepared.  Our bone replica artefacts really are made of bone – not plastic! 
We provide a living history and reenactment service as historical interpreters to bring the excitement of real history to your classroom.
Some of the locations we travel to for our  workshops are:
East-Midlands, Leicestershire, Northamptonshire, Warwickshire, Leamington, Leicester, Hinckley, Nottingham, Coventry, Birmingham, Tamworth, Derbyshire, , Chesterfield, Ilkeston, Swadlincote, Nottinghamshire, Derby, Mansfield, Worksop, Newark, Loughborough, Melton Mowbray, Coalville, Lutterworth, Corby, Kettering, Wellingborough, Nuneaton,  Solihull, Warwick, Rugby, West Midlands.