Toys From The Past School Visits
Thomas Topham (known to many schools as the time-travelling toy collector, Tommy Top Hat) brings the Toys from the Past into your school for an exciting workshop specifically designed for Key Stage 1, offering hands on historical enquiry through artefacts.

The Toys from the Past school workshop is highly flexible.  It can be booked for up to three classes in a half day at £170.00, or combined with other sessions.  Please see our Victorian Visits page for a full day of Victorian activities.  Alternatively, our Making Push and Pull Toys Workshop links well with the DT curriculum and Exploring Forces links to Science objectives.  Mileage is also charged.
Tommy Top Hat introduces himself and certain outstanding replica toys, which have been sourced internationally for the session, discussing how they work and their materials.  These include a charming, limited edition Steiff replica marionette Pantom bear which first appeared in the Steiff catalogue in 1911.  Thomas then continues to show off his collection with examples of hand-made folk crafts from the southern USA and clockwork tin toys including Duck on a Trike which delights children.
Then, a wealth of high quality reproduction and original toys are presented to the children in traditional wicker baskets for them to play with and discover the various mechanisms.
Additionally, each small group has a larger or special toy to engage with, such as bagatelle, shove ha'penny and a zoetrope.  The baskets of toys carousel around the groups until all have been seen, when the class gather for a plenary.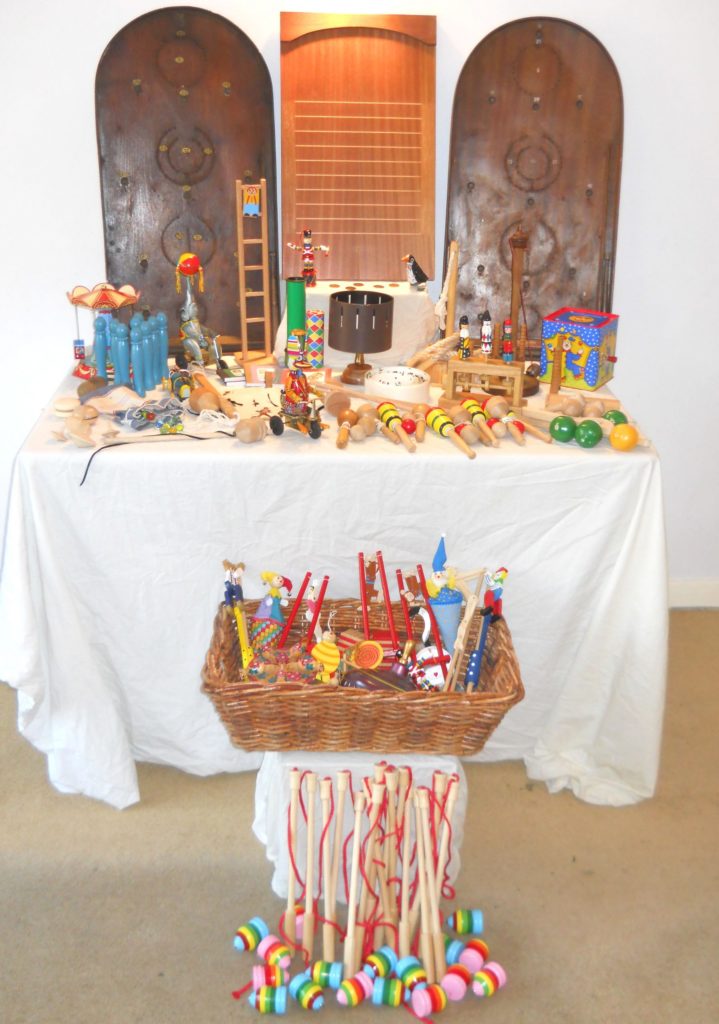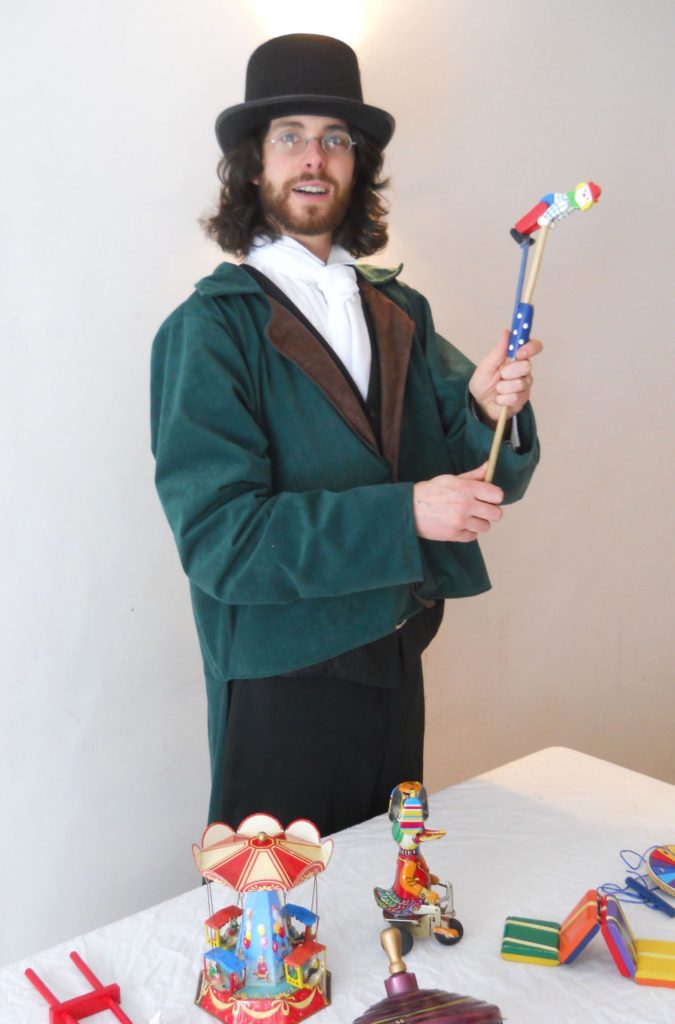 Pantom Bear

Exceptionally rare a century ago and designed by Albert Schlopsnies, a master toymaker who worked with Steiff in the early part of the last century, our replica marionette bear is one of only 1,911 in the whole world.
This workshop is designed to complement the handling session and the replica toys are used as inspiration for children to craft their own.  Thomas introduces a range of partly constructed kits of thaumotropes, flick books, whizzers and zoetrope strips for colouring and in some cases designing.  This work incorporates DT objectives.
This session incurs an extra charge per head to account for the time and resources involved in making the kits.
This session is a fantastic opportunity for children to handle and play with a range of authentic toys more suited to play outside or in the hall.  It also facilitates the Specialists policy of trying to offer activities for all the children throughout the day and can be teacher-led.
Our usual approach to in-role work is tempered with a realistic understanding of KS1 for these sessions and we can certainly come in costume but not in role if teachers think that it may cause confusion for pupils.  Our approach for Key Stage 1 is that we will acknowledge materials like plastic which we "shouldn't" know about – essentially whatever facilitates learning best will be our approach for the session.  Our focus is on the educational experience for the children and what serves them best, so the sessions are interactive and involve everyone.
The main handling session can also be adapted for older children to study toys through the ages, involving Roman, Egyptian and Tudor toys as well as the Victorian ones to compare and contrast.
Any of the above activities, including Victorians, can be booked at the costs quoted below, which covers the service itself, to be delivered by either or both of us, dependent on your area and other factors (see our Terms and Conditions).  However, the Making Push and Pull Toys Workshop incurs an extra charge of £1.00 per pupil on top of the below fees.
The costs quoted below cover the service which can be delivered by one or two Specialists, dependent on your area and other factors (please see our Terms and Conditions).  Full days can be booked up to one hour's drive from our base.  Reduced full days, half days and bookings where both Specialists are required can take place in schools up to forty minutes drive from our base.
Full Day – (One Specialist, 9am-3pm)
The full day rate is £315.00 from Autumn 2022 plus mileage (60p per mile round trip from CV13 0DZ)
Reduced Full Day – (One Specialist, 10am-3pm)
The reduced full day rate is £270.00 from Autumn 2022 plus mileage (60p per mile round trip from CV13 0DZ)
Full Day – Double Rate (Two Specialists)
The full day rate for two Specialists is £370.00 from Autumn 2022 plus mileage (£1.20 per mile round trip from CV13 0DZ)
Half day
Half days can incorporate some of the above sessions. The cost for ½ day is £220.00 from Autumn 2022 (60p per mile round trip from CV13 0DZ)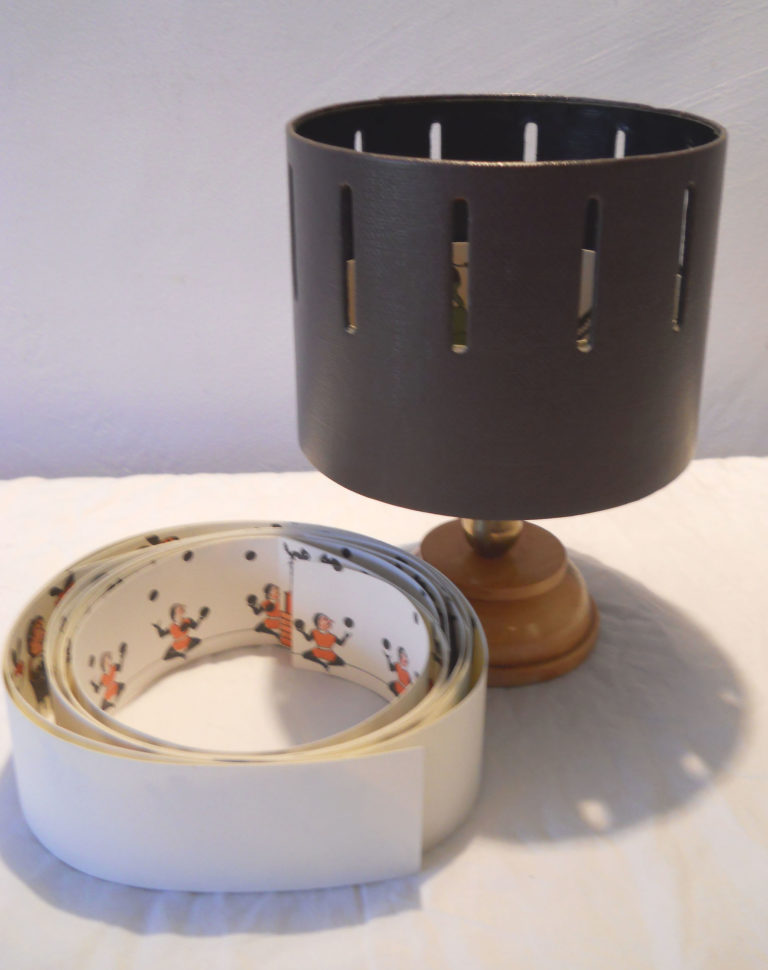 Illustration
Two classes of children, engaging in the handling session for half a day – £220.00 plus mileage.
Three or more classes of children, engaging in a Victorian Visit (to include Toys from the Past sessions) for a full day – £315.00 plus mileage.
Sixty children, engaging in a Toys from the Past Visit (to include Making Push & Pull Toys Workshops for all) for a full day – £375.00 plus mileage.
These rates are complete and there are no hidden costs. Confirmation of booking is taken as a contract between the school and The Specialists and acceptance of our T & C's.
Greg and Lisa McCarthy have many years of experience working with children. Greg is a teacher and Lisa a former Occupational Therapist in learning disabilities. Both have full CRB's and public liability insurance.
Toys from the Past school visits for education.  We provide a living history and reenactment service as historical interpreters focusing on the QCA How are toys different from those in the past topic.  As re-enactors and educators, we bring the excitement of real history to your classroom.
Some of the locations we travel to for our Toys workshops are:
East-Midlands, Leicestershire, Northamptonshire, Warwickshire, Leamington, Leicester, Hinckley, Nottingham, Coventry, Birmingham, Tamworth, Derbyshire, , Chesterfield, Ilkeston, Swadlincote, Nottinghamshire, Derby, Mansfield, Worksop, Newark, Loughborough, Melton Mowbray, Coalville, Lutterworth, Corby, Kettering, Wellingborough, Nuneaton,  Solihull, Warwick, Rugby, West Midlands.