Invite Gregorios, a Spartan Hoplite into your school to bring history to life!
In local schools, two Specialists can attend and two form entry schools will get Specialist-led sessions for all children all day.  Further afield, two and three form entry schools can be accommodated with some teacher-led sessions and we have enough resources for all children to be occupied on Greek sessions all day.
Below is an outline of a typical Greek Visit.
Gregorios the Ancient introduces himself in costume and in role before giving a brief overview of Greek life in 480 BCE .  This is the time of the famous battle of Thermopylae and he has been involved in the initial days of fighting at the Hot Gates!
A volunteer is usually chosen for dressing up in a child sized chiton.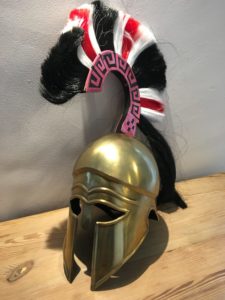 Sparta's early establishment is touched on, explaining the roots of their culture.
Ancient Greek warfare will be discussed. Children will learn about various battle equipment and sometimes volunteers come up to handle some of it. Then all children will be given a shield to drill in a variety of real ancient Greek battle manoeuvres.
This session helps children to understand the reasons why Spartans were so warlike.
Children work on a small section of a larger class mosaic which will be assembled for display by the end of the session.  (We email the templates for teachers to print out.  Paper and glue to be provided in school, please.)
Nationwide, this session can easily be teacher-led and incorporates Art/DT skills.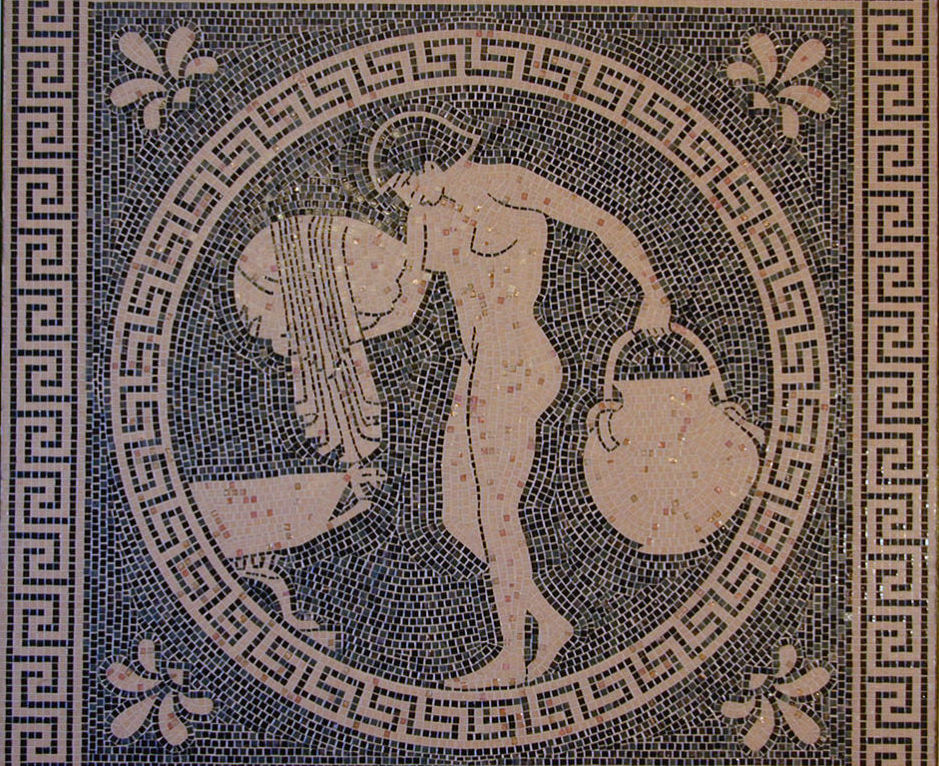 This session is structured in three separate but related sections which the children carousel around during the session.  It offers an amazing opportunity to handle many authentic objects most of which are of museum quality.
Object Handling
Children can handle a range of museum quality replica pottery and dress up in child-size ancient Greek clothing.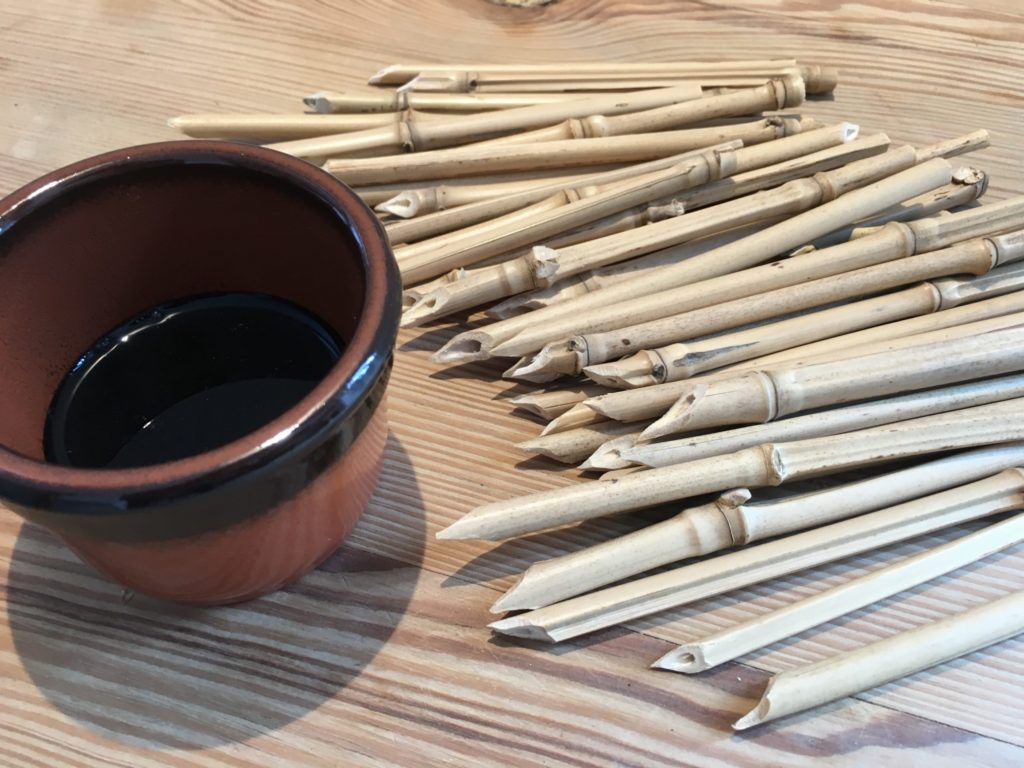 Medicine Making
Children learn about Hippocrates and are directed in how to mix authentic ancient Greek medicines from ingredients provided by The Specialists.
Writing
Replica reed pens and ink are used to copy out Greek medicines and information about the gods (paper to be provided in school, please). can dress up in child-size ancient Greek clothing and handle a range of museum quality replica pottery.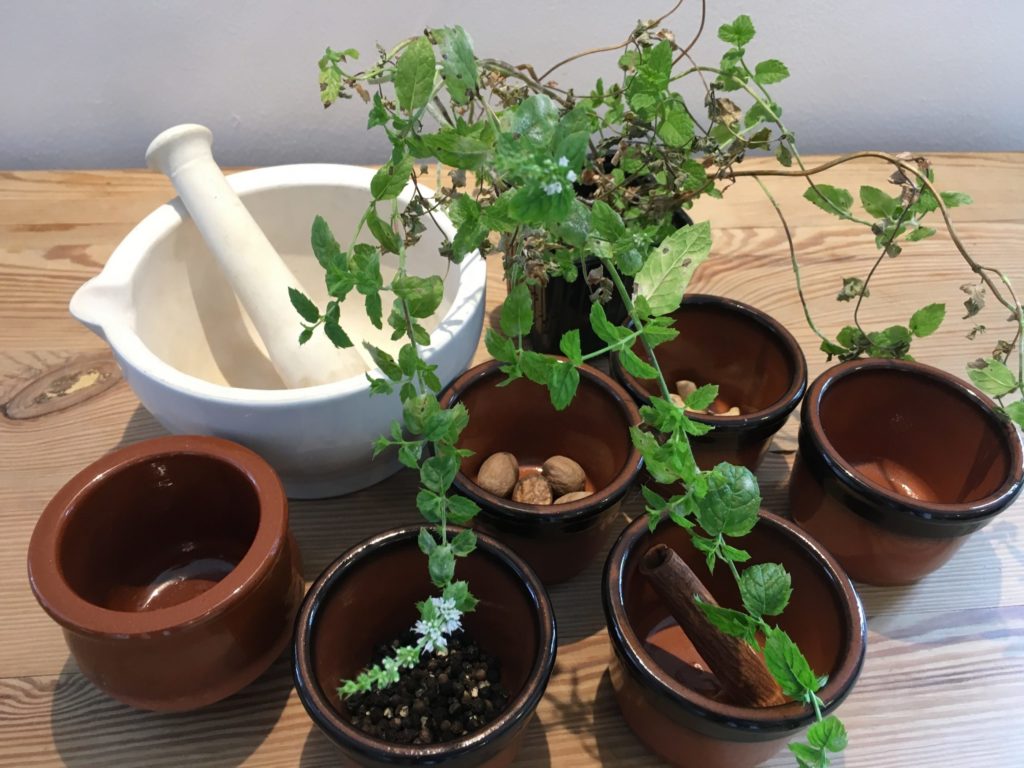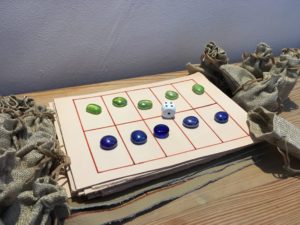 Five Lines
Children have the opportunity to share a game with a friend as we bring our authentically reproduced class set of Five Lines.  This is a Greek board game so ancient that its rules have had to be reconstructed with a little intuition. 
Greek pastimes are discussed and a range of replica artefacts relating to the Olympics are shown.  Very often, the children already know that the competitors in the ancient Olympics were in the nude and enjoy laughing about it.  There is time for a little practice with javelins, balls and the discus before a full class reenactment of the ancient Olympics (fully clothed and with a range of child-friendly resources!).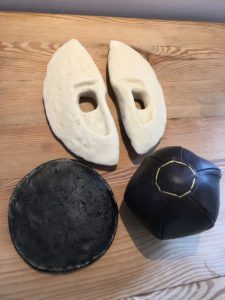 Greek Myths & Storytelling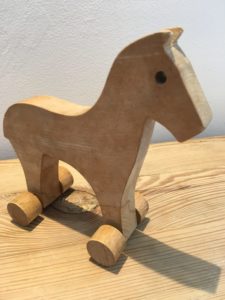 We always end the day with storytelling as a whole group usually a Greek myth told in oral tradition – from memory.
We, Greg and Lisa, work fully in role as ancient Greeks. This means that we use our subject knowledge to respond to questions as people from the past would do. 
Our focus is on the educational experience for the children and what serves them best, so the sessions are interactive and involve everyone.
The costs quoted below cover the service which can be delivered by one or two Specialists, dependent on your area and other factors (please see our Terms and Conditions).  Full days can be booked up to one hour's drive from our base.  Reduced full days, half days and bookings where both Specialists are required can take place in schools up to forty minutes drive from our base.
Reduced Full Day – (One Specialist, 10am-3pm)
The reduced full day rate is £270.00 from Autumn 2022 plus mileage (60p per mile round trip from CV13 0DZ)
Half day – (One Specialist, 10am-2pm)

Half days can incorporate some of the above sessions. The cost for ½ day is £220.00 from Autumn 2022 (60p per mile round trip from CV13 0DZ)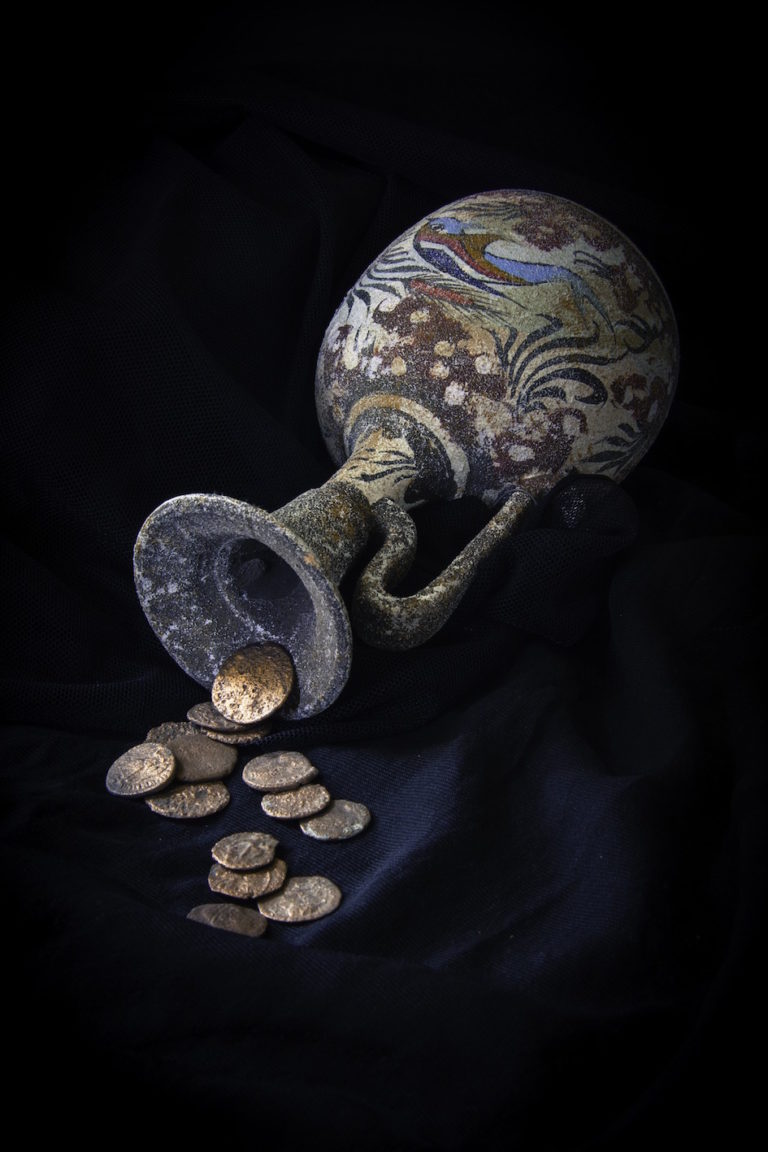 These rates are complete and there are no hidden costs.  The day is fully risk assessed and this can be emailed upon request.  Confirmation of booking is taken as a contract between the school and The Specialists and acceptance of our T & C's.
Greg and Lisa McCarthy have many years of experience working with children. Greg is a teacher and Lisa a former Occupational Therapist in learning disabilities. Both have DBS and public liability insurance.
Resources are meticulously researched and as authentic to the period as possible
Greek school visits for education.  We provide a living history and reenactment service as historical interpreters to bring the excitement of real history to your classroom.
Some of the locations we travel to for our Greeks workshops are:
East-Midlands, Leicestershire, Northamptonshire, Warwickshire, Leamington, Leicester, Hinckley, Nottingham, Coventry, Birmingham, Tamworth, Derbyshire, , Chesterfield, Ilkeston, Swadlincote, Nottinghamshire, Derby, Mansfield, Worksop, Newark, Loughborough, Melton Mowbray, Coalville, Lutterworth, Corby, Kettering, Wellingborough, Nuneaton,  Solihull, Warwick, Rugby, West Midlands.